Despite massive popularity, unrivaled cultural relevance and a billion daily active users, Instagram can't seem to figure out long-form video. Specifically, its "IGTV" platform, which originally launched as a standalone app in June (remember that?) is largely being ignored by users, at least if multiple media reports (New York Magazine, Fast Company) are to be believed.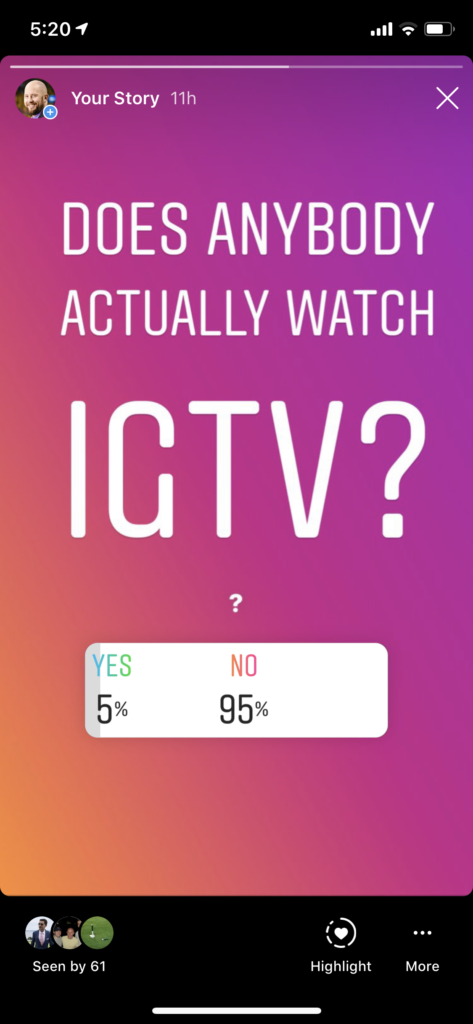 We don't have much else to go on. Despite scouring the internet, I couldn't find a credible reporting of IGTV's monthly active users (MAUs). Presumably, that would indicate that the number is underwhelming, and as such, it hasn't been released. I found a random tweet that pegged it around 65 million, but that number is unsubstantiated and seems unlikely.
Quick, informal polls on my Twitter and Instagram feeds suggested the same conclusion.
In my own Instagram story and Twitter feed last week, I asked followers, most of whom work in the digital marketing space, if they actually use IGTV. Of 40 responses to my Instagram story poll, only one person acknowledged actually watching the IGTV platform.
At 2.5% percent, that's about as effective as a PPC ad. That's not what we industry types call a great conversion rate.
On Twitter, most replies were "Nope." Others suggested that they'd only landed on IGTV accidentally.
Instagram launched IGTV to much fanfare midway through 2018, with analysts proclaiming it to be a potential YouTube competitor. That didn't pan out. Almost a year later, the platform feels like, at best, an afterthought, and at worst, a miscalculation. When the initial standalone app failed to take off, IGTV was more deeply integrated into into the main Instagram experience.
However, IGTV doesn't seem to be resonating with rank-and-file Instagram users.
Early on, Instagram was preaching patience. "It's a new format. It's different. We have to wait for people to adopt it and that takes time," former Instagram CEO Kevin Systrom told TechCrunch in August of 2018. "Think of it this way: we just invested in a startup called IGTV, but it's small, and it's like Instagram was (in the) 'early days.'"
A month later, Systrom, along with Instagram Co-founder Mike Krieger, left Facebook, Instagram's parent company.
So, is IGTV the new Google+? It's likely too early to tell, but it's looking that way.
Instagram's main feed and Stories products have become symbiotic with the influencer community, and IGTV seems tailor-made for brands and influencers to offer longer-form content; videos can be up to an hour long. However, the people who should have the most interest in the new platform, creators themselves, are mostly just repurposing (read: cropping vertically) their YouTube content.
Without a clear monetization path, they're unlikely to continue to put any real effort into the platform. Top talent on YouTube can make six figures or more a month.
IGTV isn't the first time that Facebook has swung and missed on long-form content. Facebook Watch, which was also positioned as a YouTube competitor, initially was paying content providers, with an estimated budget of $90 million. But as that money started drying up, outside of truly unique content like Tom Brady's "Tom vs. Time," "Ball in the Family" or WWE's "Mixed Match Challenge", there wasn't much to see on Watch.
IGTV is not paying content creators, and it still lacks an advertising or revenue-sharing model. (UPDATE: On April 2, AdAge reported that Instagram has started to reach out to advertisers about buying spots on IGTV.)
Far more problematic beyond a revenue model is the main issue for influencers: If nobody's watching, who's being influenced? Is there really a long-form content appetite to be fed on Instagram via the smartphone?
Depending on which gurus you believe, millennials either want "snackable" short-form content, or they actually want long-form content. Go ahead: Google "longform video making a comeback." You'll find articles from 2014, 2015, 2016 and 2018 in the first page of results.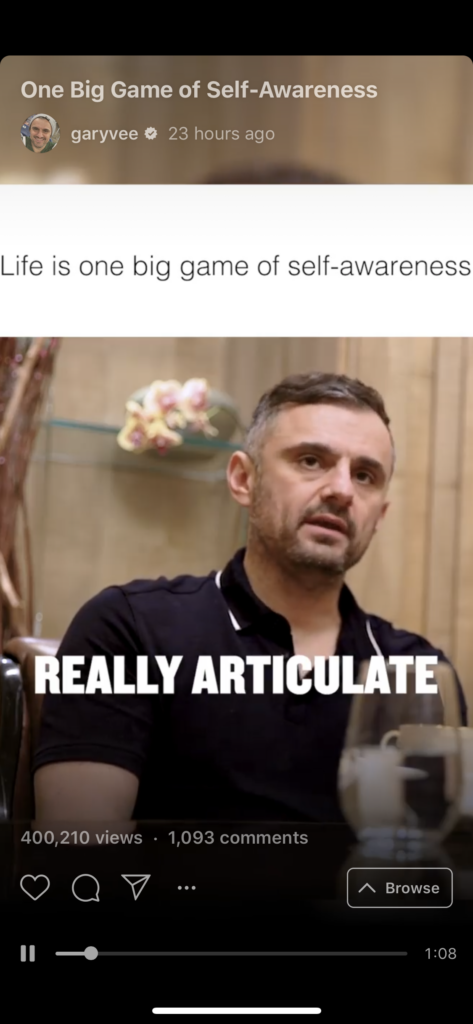 But here's the thing: Long-form content never went anywhere. With apologies to L.L. Cool J, don't call it a comeback. Long form content has been here for years. It's called YouTube. And why is YouTube so successful?
One word: search. YouTube is the second-biggest search engine in the world, trailing only its parent company, Google.
IGTV, in an effort to differentiate itself from YouTube, launched without proper search functionality. In fact, when you activate IGTV, it opens with static fuzz, like what you would see when you turned on a TV with a cable box back in 1983 and flipped through channels, not knowing what you're going to get next.
"Because we don't have full text search and you can't just search any random thing, it's about the creators" Systrom explained at the time of the launch. "I think that at its base level that it's personality-driven and creator driven means that you're going to get really unique content that you won't find anywhere else and that's the goal."
Search has since been added to IGTV (and it quickly auto-suggests feeds that create IGTV content), but when I opened IGTV over the weekend, I was served up content from ESPN, WWE, Gary Vaynerchuk and The Daily Show.
This is all content I can find everywhere else, on Twitter, television, Linkedin, etc.
Discoverability is one of the main issues that's continued to plague Snapchat, and seems to be hurting IGTV as well. With all of the choices we have today, am I going to invest five minutes into a random piece of longform content that an algorithm thinks I want to watch? Possibly.
The likelihood increases dramatically, however, if it's something I've searched out.
With all of the data these major platforms have at their disposal, why do they continue to make such large errors in assessing what their users actually want? Why do they fail in targeting new spaces like Google did with social, or Instagram seems to be doing with long-form video?
In reading about the Google+ failure, one anonymous former Googler said the company was "late to market" and motivated from "a competitive standpoint" as they looked to take on Facebook.
If you've never read this infamous tweetstorm from another former Google+ engineer, it describes office politics, siloed teams and a lack of clear vision as major factors in the demise of Google's failed social network. Here's the start of that thread:
Given the recent Instagram drama surrounding the founders' departure from Facebook, it's likely that similar forces were at play with IGTV.
Whatever the reason, IGTV hasn't lived up to the hype of last year's launch, and it may never take off at all. Instagram itself doesn't seem to be losing steam. But they badly misread the market and their users' appetite (or lack thereof) for long form content.
The lesson might be this: You don't have to be all things to all people.
Or, as Facebook Watch's LaVar Ball says, "Stay in yo' lane!"